Manual Handling: Train the Trainer: Course Overview
Manual Handling: Train the Trainer course via Zoom video call
Due to the outbreak of the coronavirus, we're now offering our Manual Handling: Train the Trainer course via Zoom video call.
As demand for home deliveries has increased during the pandemic, many companies are taking on new staff to pick, pack and deliver orders. It's vital that your new employees know how to handle loads safely and correctly to prevent injuries and protect your workforce.
The Manual Handling: Train the Trainer course will equip you with the skills and knowledge you need to confidently deliver manual handling training within your company, whether it's in person or remotely.
How will the remote Manual Handling: Train the Trainer course work?
The remote training will be just as comprehensive as our face-to-face Manual Handling: Train the Trainer course and we can train up to 6 people on one video call.
As well as learning about the anatomy of the spine, the risks associated with manual handling and health and safety legislation, we'll demonstrate efficient movement principles and the correct posture to adopt during manual handling tasks.
You'll also learn about the best ways to teach manual handling techniques to others and the latest manual handling best practices.
We'll email you the course materials prior to the training and arrange a time for you to complete your assessment (ideally around a week after your initial training).
The assessment will be a 10-minute individual presentation on a manual handling topic of your choice that you'll include in your training for your employees. You'll present this remotely to your trainer.
The aim of our Manual Handling: Train the Trainer Course is to help you effectively train employees in an engaging and confident manner.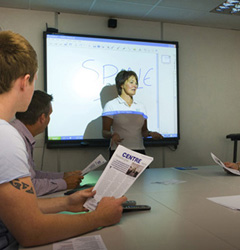 You will gain new skills, knowledge and understanding about how best to train others while reviewing current best practices in manual handling.
By training a trainer to operate within your organisation, the delivery of new skills, including manual handling, can be distributed throughout the workforce. This is much cheaper than sending individuals or groups for private tuition.
Manual Handling: Train the Trainer Course: Costs
The course can be delivered in-house and can be tailored to include specific manual handling tasks and activities within your organisation. Please contact us for more information.
For one person the cost is £550.
For a group of up to eight people the cost is £1,600 which includes:
CD with presentations for handler training courses