What is a Toolbox Talk?
Despite the name, this is not an opportunity for you to brag about your new cordless drill. No, a Toolbox Talk is an informal group dialogue that focuses on a specific safety issue. These discussions can be used to promote your particular department's safety culture or to highlight a precise safety issue.
These talks should be shorter than a standard safety meeting or a typical training session, as they are designed to reinforce safety training and details on one particular topic. Absolutely anybody can conduct a Toolbox Talk, but it's a good idea to select those who have expertise on the topic in question.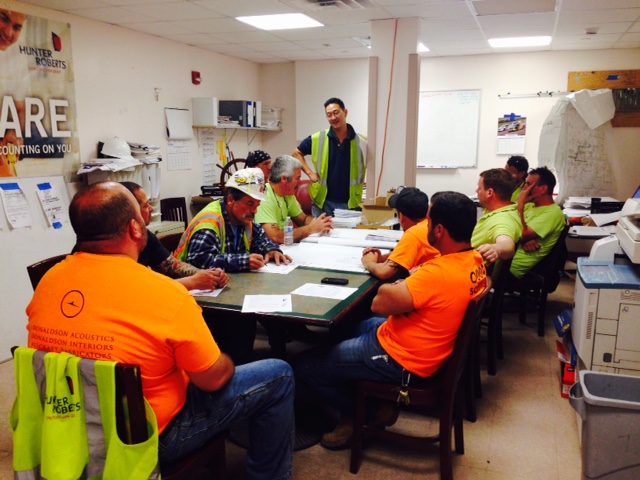 The Toolbox Talk Setting
Toolbox Talks should be conducted at a job site before the job or work shift commences. Ideally, they should then occur on a regular basis to ensure these talks are as effective as possible. The frequency of meetings will largely depend on the size and nature of the job site, as well as its location.
The environment should be relaxed and relatively informal – taking no longer than 15-minutes if possible. Host your meetings in a comfortable setting at the start of a shift, during a lunch break or some other time away from usual operating hours.
The Importance of Talking!
Conversing with team members and site workers is extremely important. Toolbox Talks are really useful refreshers that keep employees abreast of recent changes in regulation, safety procedures, personal protection equipment (PPE) and job responsibilities. Toolbox Talks are used to:
Help employees understand their job responsibilities

Establish what is expected from employees

Ensure employees are ready to do their jobs safely

Influence employee performance
This is one of the most effective methods of restoring knowledge and covering last minute safety checks for your employees. Refresher training such as this is actually required by law on many topics, in which case Toolbox Talks are incredibly convenient and compliant.
How to Host an Effective Toolbox Talk
In order to improve Toolbox Talks, make them interesting and ensure they are as effective as they can possibly be – they should:
Be explained in a positive manner

Focus on what is best for the company or group

Begin with gratitude and some good news

Tell stories rather than statistics

Be brief and to the point

Talk directly to your audience
By following these guidelines you can ensure your Toolbox Talks are full of energy and engagement. This is incredibly important as an effective Toolbox Talk can go on to save lives later down the line. There is nothing more important than that!
Fit4Work can incorporate Toolbox Talk guidelines into our workplace safety training programmes. We have long been passionate about empowering employees and employers to have the knowledge and confidence to properly promote good physical health in the workplace.
If you're interested to learn more about how an effective Toolbox Talk can assist with boosting physical well being at your organisation, contact Fit4Work today!