Individual DSE Assessments
Angela Hinton, the Director of Fit4Work, has been a qualified Chartered Physiotherapist for 21 years, specialising in musculoskeletal injuries. She has been carrying out DSE Workstation Assessments across the Yorkshire region for many years with great success.
Fit4Work provides DSE Assessments in Yorkshire for companies such as UK Border Agency, BBC, ITV, HM Revenue & Customs, DVLA, The British Library, Royal College of Nursing, The Insolvency Service and Department of Work and Pensions.
Fit4Work provides a comprehensive workstation risk assessment service. It enables businesses to meet the requirements of the Health and Safety (Display Screen Equipment) Regulations 1992. The assessment protects your most valuable asset: your employees.
Fit4Work provides high quality workstation assessments. Our knowledge and understanding of the musculoskeletal interaction with display screen equipment enables assessors to efficiently identify causes of pain while working at the workstation.
Fit4Work – DSE Assessment Excellence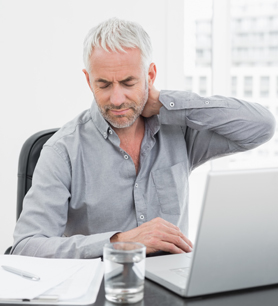 The Display Screen Equipment (DSE) regulations require DSE assessments to be conducted for all users of display screen equipment.
Fit4Work can offer either a basic DSE assessment for a large number of employees, which can take up to 30 minutes per person, or provide an advanced workstation assessment for an employee who has a complex medical problem or suffers from a chronic musculoskeletal issue(s).
Fit4Work provides a detailed report outlining the findings of the assessment, changes made, information given and recommendations.
Fit4Work can provide workstation risk assessments in Leeds and the Yorkshire region.
Individual DSE Assessment – Course Content
Postural assessment

Seating assessment

Assessment of monitor, keyboard, mouse and other equipment

Training on good postural alignment when seated

Where possible on the spot changes

Support in planning daily work routines

Exercises to help prevent musculoskeletal disorders occurring, if appropriate
Fit4Work can provide workstation risk assessments in Leeds and the Yorkshire region.
Individual DSE Assessment – Costs
Fit4Work offers Individual DSE Assessments starting at £165. Costs vary depending on the distance required to travel from Leeds.