"This is the best course we have ever had" – Attendees of Westcliffe Health Innovations
"Excellent course, very informative" – Roche Healthcare
"The People Moving and Handling train the trainer course was fantastic. Angela was so knowledgeable and adapted the course to my learning needs. Angela demonstrated perfectly how to deliver training in a meaningful and engaging manner. I would highly recommend." –Rachel Osborne from Dove House Hospice Limited
People Moving and Handling: Train the Trainer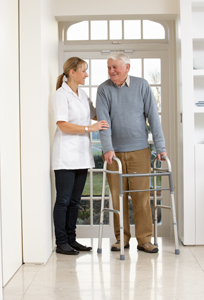 Fit4Work's People Moving and Handling Train the Trainer course will train your employees to deliver manual handling training to others in your organisation.
When moving and handling patients, the risk of injury to both staff and patients is huge.
If handlers aren't using the correct handling techniques or equipment, they could develop musculoskeletal disorders, which can negatively impact their health and productivity.
It's important that handlers can carry out their role safely and effectively to ensure the safety of themselves and the people in their care.
Having an in-house trainer is a cost-effective way to quickly train new staff, ensure all carers are using up-to-date handling techniques and reduce the risks of injury, accidents and potential lawsuits.
Why use Fit4Work for your training needs?
Designed and deployed by Angela Hinton MCSP HPC, a Chartered Physiotherapist, specialist in musculoskeletal injuries and rehabilitation, and trusted provider of workplace health and safety training, Fit4Work's People Moving and Handling Train the Trainer courses provide a truly superior learning experience.
At Fit4Work, we're committed to providing your organisation with the knowledge, support and guidance your trainers need to design, deliver and implement safe training practices.
Our trainers are highly qualified and experienced, often having worked within the NHS and health and social care settings. They have an invaluable, hands-on understanding of the realities of the day-to-day demands faced by the sector.
We deliver the course at a pace relevant to the group's experience and every attendee will receive a comprehensive training manual, an editable PowerPoint presentation and access to the videos used on the course.
Who is the People Moving and Handling Train the Trainer Course aimed at?
The course is specifically designed to provide learners with the skills and knowledge required to deliver a high standard of manual handling training to their own staff.
It's ideal for those who are looking to improve their knowledge of the subject area, or those whose roles require evidence of periodic continuing professional development (CPD) as part of their professional registration requirements.
People Moving and Handling Train the Trainer Course Content:
The anatomy of the spine and the types of injuries that can occur from an incorrect postural alignment

Efficient movement principles – understanding normal human movement patterns as a prerequisite to moving and handling people

How trainers can promote healthy back care

Controversial handling techniques

How to conduct a risk assessment for patients / residents using T.I.L.E.O

Practical competence sessions (with and without equipment, e.g. slings, hoists, slide sheets and stand aids)

Different training techniques

An assessment in the delivery of safe training techniques to ensure that trainers achieve a high level of competency
Where is the course delivered?
The course can be delivered either at your organisation or at a very well-equipped training venue that we use in Leeds.
The four-day training course is delivered on two consecutive days over two weeks, i.e. two days one week, then two days the following week.
However, if there are only a few attendees to train, the course length will reduce.
The 15-minute micro-teach assessment will take place on the last day of the course.
Please get in touch to discuss your needs / preferences.
Attendees will deliver a 15 minute micro-teach assessment in safe training techniques.
(No VAT to pay however, travel expenses: 45p per mile from Leeds and back)
Call 0113 3501776 now and find out how we can help you!