It's all too easy to fall into a slumped sitting posture when you're absorbed in your work. But sitting slumped in your chair for long periods of time places pressure on certain parts of the body which can cause musculoskeletal injuries and health problems.
It's the responsibility of employers to ensure that all employees who use computers, tablets and laptops do so correctly.
The Health and Safety Executive (HSE) have stated that 9.5 million work days are lost due to work-related musculoskeletal injuries, often caused by prolonged sitting, poor posture and making small, repetitive movements.
DSE Assessor Training Course – Overview: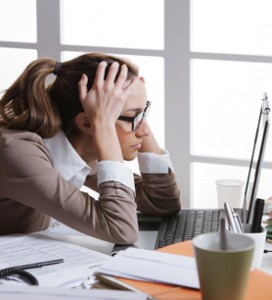 This one day in-house DSE Assessor Training Course provides employees with the knowledge and skills to confidently carry out workstation risk assessments.
The morning of the course concentrates on theoretical knowledge whilst the afternoon focuses on carrying out assessments.
Fit4Work
trainers are all registered physiotherapists who carry out DSE assessments every day. Course participants will benefit from their real-life knowledge and experiences and will have the opportunity to discuss relevant issues with them during the course.
Who is the DSE Assessor Training Course aimed at?
The DSE Assessor Training Course is aimed at facilities managers, health and safety managers, occupational health therapists and staff who have been nominated to carry out DSE workstation risk assessments.
DSE Assessor Training Course: Learning Outcomes:
Develop a thorough knowledge of legal requirements

Understand the extent of health issues that can arise from poorly-designed tasks and workstations

Gain an understanding of the effects of slumped posture on the spine (neck, back and shoulders) and how to correct the sitting posture of employees who are being assessed

Understand which type/design of appliance should be used in order to prevent musculoskeletal injuries

Have the skills and confidence to carry out DSE assessments in the workplace
DSE Assessor Training Course: Content:
Health and safety (Display Screen Equipment) regulations

Anatomy of the spine

Musculoskeletal injuries

Posture

Responsibilities of the DSE Assessor

Suitable equipment:  screens, chairs, desks, mice, keyboards, laptops

Practical assessments
DSE Assessor Training Course Costs:
The price is £340 plus £50 for each additional participant
The price includes an extensive training manual, training disc and certificates.
Please Note:
The cost of DSE Assessor Training may vary slightly depending on the travelling distance from the Leeds area – please contact us to learn more.