Patient Moving & Handling: Train the Trainer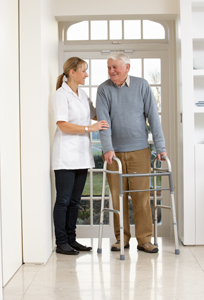 The moving and handling of people is a core activity for all emergency personnel, health professionals and people working in the social care sector.
Training staff on how to move people safely and effectively is essential in order to provide patients with quality care.
The risk of work-related musculoskeletal disorders (MSDs) affecting handlers is a great concern both in terms of lost productivity and the impact on the health of the handler. It is important that handlers are fully competent in moving techniques to ensure the safety of the frail and incapacitated people they are handling. Our course will enable staff to carry out their role more effectively, whilst minimising the risk of harm to themselves or those in their care.
Fit4Work offers training and common sense advice on moving and handling techniques. Training staff in moving and handling techniques will ensure patients are moved safely and correctly in a dignified manner in line with their individual care plans.
Having a qualified trainer operating within your workplace is cost-effective as it ensures employees and carers within the organisation can be trained as quickly as possible.
Patient Moving & Handling Instructor Training: Course Aims
Fit4Work's Patient Moving & Handling: Train the Trainer Course aims to provide the trainer with the skills and course material to enable them to deliver effective training to those who move and handle patients.
Booking Your Patient Moving & Handling Train the Trainer Course
Patient handling instructor's pack

CD with presentations for Handler Training Courses

Practical assessment sheet